At ITW, we strive for everyone to reach their full potential and we value the unique and diverse perspectives that make all of us better together.
To reach our full potential it takes all of us – and that's why we value the unique perspectives, experience and ideas that our colleagues contribute across our entire enterprise. We believe we are at our best when we create an environment where people are heard, valued and engaged. We create diverse and inclusive (D&I) workplaces where everyone can perform to their full potential, grow their careers, and enhance ITW's workplace culture.


Dedicated Leadership


We are committed to fostering an inclusive and diverse work environment where our colleagues feel comfortable bringing their unique backgrounds, skills, and experiences to the workplace and feel a sense of belonging… and our commitment starts at the top.
ITW Chairman and Chief Executive Officer Scott Santi joined the leaders of over 500 companies in support of the CEO Action for Diversity & InclusionTM – the largest CEO-driven business commitment to advance D&I in the workplace. Through this commitment, ITW agrees to work collaboratively across our enterprise and take concrete actions to advance D&I.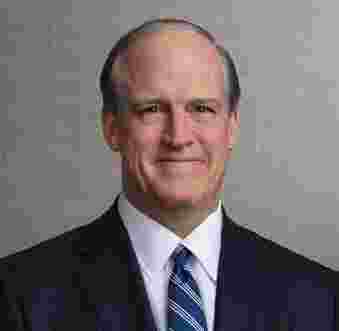 "We are committed to diversity and inclusion because it is the only way that we can be the best ITW we can be. Our ability to deliver best-in-class performance over the long term is dependent on the quality, depth and diversity of our workforce."
Scott Santi, Chairman & CEO
ITW's talent strategy is bolstered by a strong leadership commitment focused on achieving our D&I ambition.
The Diversity & Inclusion Council (D&I Council), comprised of ITW's executive leadership, developed our D&I Framework, the guiding principles for all ITW divisions to support and sustain our commitment to D&I. The D&I Council remains dedicated to executing the framework, supported by leaders who visibly demonstrate their commitment to D&I. Learn more about our commitment to D&I in our Corporate Social Responsibility Report.
ITW Diversity & Inclusion Framework
Enterprise Diversity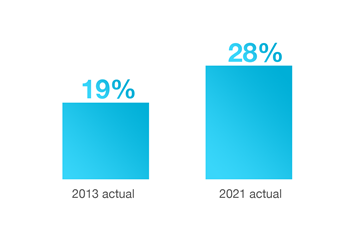 Global Women Leaders
Top 1000 Leadership Roles
Enterprise Diversity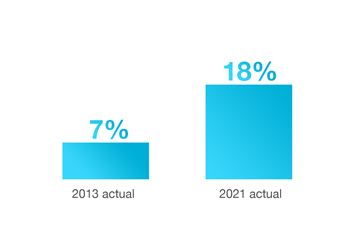 U.S. Ethnically Diverse Leaders
Top 1000 Leadership Roles
Senior Management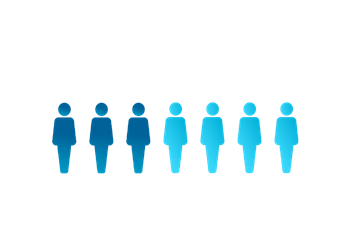 3 of ITW's 7 segments are led by women or ethnically diverse executives
Board of Directors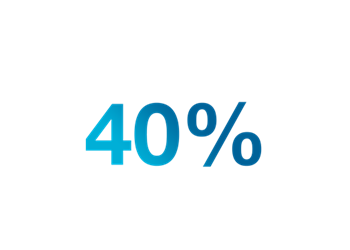 of ITW's independent directors are women or ethnically diverse
Employee Resource Groups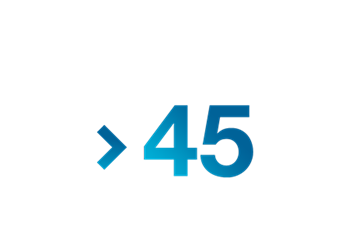 global chapters
Employee Experience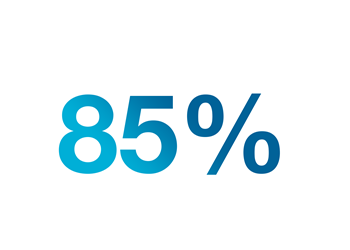 of employees recommend ITW as a great place to work
(2021 McKinsey Women in the Workplace Study)
Our Progress
Our ability to reach full potential as an enterprise requires high-performing talent that brings unique perspectives, experiences and ideas to the team, and enables us to deliver differentiated products and service levels to our customers.
We've made good progress in our journey to be a great employer with a global, diverse workforce and an inclusive workplace, and our efforts to strengthen our talent management strategy continue.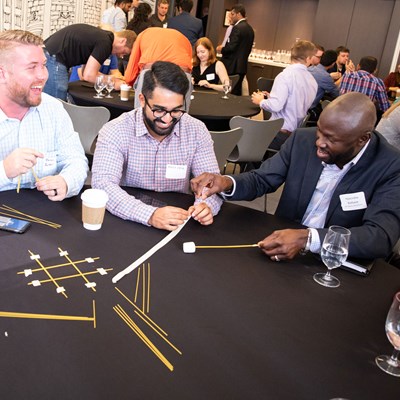 Employee Resource Groups
Our Employee Resource Groups play a critical role in building a community of future leaders. Employee Resource Groups play a vital role in engaging employees at all levels. These employee-led organizations bring together diverse groups of people and their allies to share experiences and participate in professional development workshops to help accelerate our path to full potential. ITW's African American Network, Asian Professionals Engagement Network, Latino Hispanic Network, Pride at ITW, Women's Network and Young Professionals Network directly support the enterprise talent strategy with specific focus on attracting, retaining and developing future leaders and promoting cultural diversity and community within ITW.
Diversity & Inclusion in Action