We believe we are at our best when we bring together unique perspectives, experiences and ideas. Rooted in our core values of Respect and Integrity, we are committed to treating all colleagues with dignity, fairness  and respect, and afford everyone the opportunity to reach their full potential for growth and advancement.  We strive to create diverse and inclusive workplaces where all ITW colleagues are heard, valued and engaged.
Our Diversity & Inclusion Strategy
Our approach to diversity and inclusion (D&I) is intentional, fully integrated into our enterprise talent strategy and touches every part of our business. The ITW Diversity & Inclusion Council, comprised of senior leaders, is responsible for establishing our D&I Framework and ensuring our divisions have the tools and resources necessary to build a global, diverse workforce and inclusive workplaces.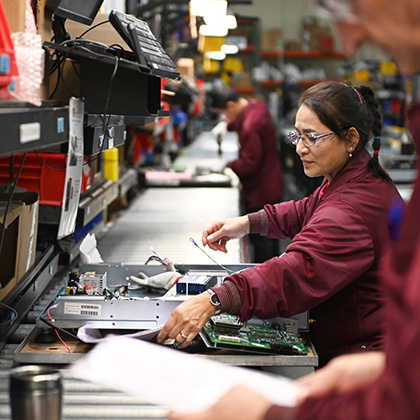 ITW Diversity & Inclusion Framework
Our Commitment to Do More
ITW has had a longstanding commitment to D&I for many years, most notably signified by our D&I strategy that was introduced in 2013. Over the years, we have demonstrated our leadership commitment, made steady progress to diversify our workforce and focused on building a more inclusive workplace.
The renewed focus on the issues of racism and discrimination in our society highlights the  complex challenges faced by many people of color in accessing the economic possibilities and potential afforded to others. Introduced in 2020, ITW's "Do More" Agenda reaffirms  our commitment to promoting and supporting more inclusive economic growth and opportunity in underserved communities. This agenda includes specific areas of focus that are impactful and closely aligned with our capabilities, skill sets and business needs as a company:
Further deepen our commitment to diversity and inclusion and respect for all at ITW.
Leverage ITW's capabilities and industry experience to create long-term skilled employment opportunities for candidates of color.
Expand ITW's investment and engagement in organizations, programs and partnerships that improve access to a high-quality education and to meaningful long-term employment opportunities for people of color.
Meaningfully expand ITW's commercial relationships with minority-owned businesses.
In addition to the ongoing work of our Diversity & Inclusion Council, we have formed  steering committees for these areas of focus. Under the guidance of our Executive Leadership Team, our steering committees are responsible for the development and implementation of specific ITW initiatives and action plans.
As part of our "Do More" Agenda, ITW has committed to growing our diverse workforce  and providing more economic opportunity to diverse people. We have initiated two important programs in our Food Equipment Group and Automotive segments to hire and develop skilled technicians, providing well-paid and sustainable job opportunities while also filling a critical talent need for our businesses.
Driving Inclusion Through Leadership Engagement
ITW leaders play an essential role in creating diverse and inclusive workplaces. They set the tone by demonstrating inclusive behaviors and promoting inclusion across their teams. ITW's global leaders have participated in our inclusive leader initiative, which is focused on understanding unconscious bias, actions we can take to minimize its effects in our workplaces, and resources to lead in a way that reflects ITW's culture and values. In 2021, nearly 4,300 global managers and supervisors participated in the training. These colleagues play an important role in recruiting and retaining world-class talent and creating inclusive work environments where our colleagues can perform to their full potential.
Diversity & Inclusion Goals
30%
Global Women Leaders
20%
U.S. Ethnically Diverse Leaders
Diversity & Inclusion Data
U.S. Ethnically Diverse Leaders
Engaging Diverse Talent and Allies
Our Employee Resource Groups (ERGs) play a critical role in engaging colleagues at all levels. These colleague-led organizations bring together diverse groups of people and their allies to share experiences and innovative ideas to help accelerate our path to full potential. ERGs directly support the enterprise talent and D&I strategies, with specific focus on attracting, developing and retaining talent and promoting cultural diversity and community.