We are committed to operating our business in a way that demonstrates our dedication to global environmental sustainability and improving our environmental performance on an ongoing basis.
Driving Continuous Improvement in Our Environmental Performance
With support from ITW's senior management, each division is directly responsible for implementing the most impactful environmental performance improvement opportunities for its unique operations. Our three-pronged approach to continuous improvement includes:
1. Auditing our facilities. ITW's annual environmental, health and safety compliance audits help ensure that the company's facilities meet regulatory requirements and reinforce ITW's commitment to safeguarding the environment. The audits also highlight the ways ITW businesses go above and beyond baseline compliance to reduce the company's impact on the environment and preserve natural resources.
2. Transparent reporting. We monitor third-party frameworks and surveys and evaluate their relevance to our business and our stakeholders. For example, we monitor the financial materiality framework of the Sustainability Accounting Standards Board (SASB) for companies in the Industrial Machinery and Goods industry to assess the financial materiality of environmental, social and governance risks to our company. In addition, we utilize the Task Force on Climate-related Financial Disclosures (TCFD) framework to guide certain of our disclosures in this report. In 2020, we also continued our voluntary participation in CDP's climate change and water questionnaires, which we have made public to increase our transparency in reporting.
3. Implementing policies that guide our progress. Each ITW division is responsible for complying with the ITW Environmental & Sustainability Policy. Everyone in the organization has a responsibility to preserve and protect the environment, conduct operations in a safe manner and recognize the potential impacts of our operations.
Reducing Our Environmental Impact
ITW is committed to continuous improvement in reducing greenhouse gas (GHG) emissions, which is demonstrated through our company-wide GHG emissions intensity reduction target announced in 2019. In early 2021, as a result of the progress made toward achieving our initial target, we increased our target. Our current GHG emissions intensity reduction target is: By 2030, reduce combined Scope 1 and Scope 2 GHG emissions per U.S. dollar of operating revenue by 40 percent below 2017 levels.
Our strategy to achieve this target includes:
1. Reducing energy consumption and improving operational efficiency in our manufacturing and ITW-owned facilities, implemented in accordance with our division-led environmental management systems.
2. Expanding our purchase of energy from renewable sources, including wind and solar, across our global footprint where possible.
We are pleased to have achieved a 26 percent GHG emissions intensity reduction through 2020, compared with our 2017 baseline year, based on our third-party verified data. This reduction is a result of decreased energy consumption, the use of renewable energy and the purchase of renewable energy credits. We saw the greatest reduction in the Europe, Middle East & Africa region (39 percent GHG emissions intensity reduction through 2020 compared with 2017, after renewables). This was followed by North America (32 percent GHG emissions intensity reduction through 2020 compared with 2017, after renewables). There is opportunity to improve our emissions intensity in the Asia, Pacific & Other region, where we saw a 2 percent increase. Overall, we are pleased with our performance relative to our goal.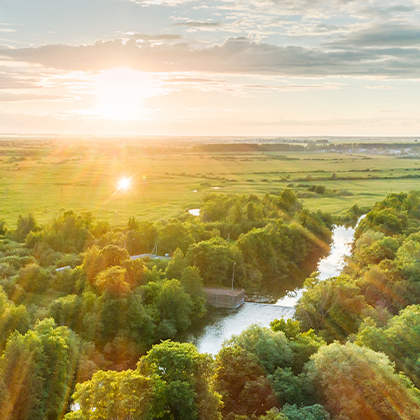 Emissions Intensity Including Renewables and Renewable Energy Certificates
ITW's Environmental Footprint