The safety of our approximately 45,000 colleagues around the world is an essential component of our commitment to be a great employer. We strive every day to foster a proactive safety culture through the execution of our Enterprise Safety Strategy, which is based on a philosophy that every accident is preventable and with a goal of zero accidents. Our division-driven approach ensures we have a shared responsibility to protect the well-being of every ITW colleague.
A Strategic Approach to Safety
Our Enterprise Safety Strategy and Safety Policy are based on the following core principles:
Goal of zero accidents
Shared ownership for safety (business and individual)
Proactive approach focused on accident prevention
Continuous improvement philosophy
Compliance with applicable national, regional and local health and safety laws and regulations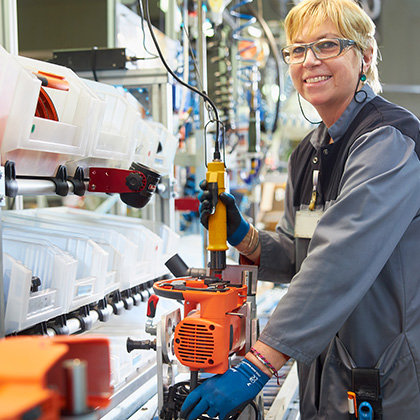 Our Framework for an Effective Divisional Safety Management Program
Every accident is preventable, and our shared goal is zero accidents.
Leadership engagement coupled with individual employee responsibility drive our safety journey. We maintain a strong focus on continuous improvement, communicating progress and celebrating success.
Each division has at least one safety committee consisting of both employees and management.
Clear safety messaging in the workplace and the sharing of best practices within and among divisions.
Continuously acquire and reinforce the skills necessary to improve safe work practices.
Prevent accidents by identifying and reporting hazards.
Each division has implemented a process to identify and eliminate hazards, including risk analysis, near-miss reporting, sharing best practices and implementing corrective action.
Ensure root cause identification and corrective action with a sense of urgency.
Use data to track and drive safety performance improvements.
Every ITW division strives to meet or exceed all applicable regulatory obligations.
Progress Toward Our Goal
2021 marked our sixth year executing the Enterprise Safety Strategy across all ITW divisions. We experienced a modest increase in incident rates for 2021 compared with 2020, and we attribute the increase to the following factors:
COVID-19 impacts on the implementation of certain Enterprise Safety Strategy initiatives;
New colleagues recently hired in response to higher product demand; and
Operational challenges brought on by high demand and global supply chain impacts.
ITW's safety metrics are based on full-time equivalent.