Our goal to be one of the world's best performing, highest-quality and most respected industrial companies starts with our commitment to our customers. They are a driver of our innovation and a partner in our efforts to deliver environmentally responsible solutions.
Delivering Clean-Tech Solutions Through Customer-Back Innovation
Across the enterprise, we partner with our customers to address some of the world's most important challenges and opportunities. From incorporating recycled material to reducing energy use or greenhouse gas (GHG) emissions, we are committed to delivering products and solutions that help our customers reduce their environmental impact and provide cleaner, more efficient end-use applications.
Customer-Back Innovation, a component of the ITW Business Model, guides our approach to innovation and starts with understanding and addressing our customers' most important pain points. We go to great lengths to understand the root of our customers' challenges so we can develop and test viable solutions. For example, with the growing electric vehicle (EV) market and the need to decrease vehicle emissions, we work directly with automotive manufacturers and OEMs to understand how our products can help them increase energy efficiency, reduce vehicle weight and enhance component durability and longevity.
ITW is proud to provide more than $4.7 billion of products that support overall eco-efficiency and in turn help our customers reduce the environmental impact of their own products. Clean-tech products represent approximately 30% of ITW's overall revenue in 2022, an 8-percentage-point increase since 2017.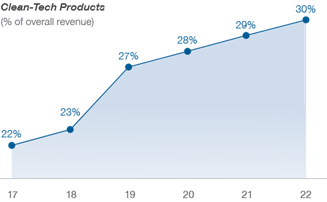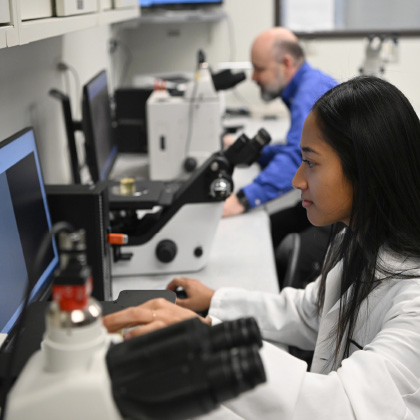 How Customer-Back Innovation Addresses Product Safety
ITW's Customer-Back Innovation process incorporates product safety through the following steps:
Identify the key customer problem and determine the business value of solving it. This step includes considering safety impacts related to the customer issue and possible solutions.
Explore differentiated alternatives and select the best product/service approach. This step includes the start of our Design Failure Mode Effects Analysis (DFMEA) process, which considers safety implication and mitigation strategies for potential risks of our proposed offerings.
Engineer the product/service. The DFMEA identification of possible product safety issues and their mitigation is typically concluded by the end of this step.
Build the capability to manufacture, support and sell the product/service to customers. This step includes the consideration of effective control plans to ensure manufactured products are high quality and safe.
Life Cycle and Durability of Products
ITW's long history of innovation is demonstrated by our broad portfolio of approximately 19,200 granted and pending patents. The life cycle and durability of a product are core to our business and key considerations in our approach to delivering customer-driven, sustainable solutions. Many of our products are designed and built to last in a way that differentiates ITW from other companies. As described above, ITW's various divisions consider the long-term product needs of customers and conduct appropriate DFMEA and Process Failure Mode Effects Analysis to enhance product safety, reliability and durability.
For example, ITW Hartness' palletizing equipment is designed for longevity and reliability to meet shifting market demands. Our Hobart food equipment and Buehler lab equipment are typically in use by our customers for decades. Products from our Appliance division, which we furnish for OEM appliance manufacturers, support robust operation of this appliance equipment typically for decades as well.